Skateboarder's suit against Baltimore cop tossed
Skateboarder's suit against Baltimore cop tossed
September 22, 2009 – 12:41pm
Neal Augenstein, wtop.com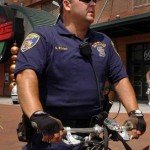 BALTIMORE, Md. – A civil lawsuit filed by the mother of a defiant skateboarder who was berated and grabbed by a Baltimore police officer while skating near the Inner Harbor has been thrown out by a judge.
"The family is incredibly disappointed, and feels wronged," attorney William P. Blackford tells WTOP. "They've had their day in court taken away."
Blackford filed the suit on behalf of Margaret Miller, and her son, Eric Bush.
Three weeks before the civil case filed against Salvatore Rivieri – a 17-year-veteran – was to go before a jury, Baltimore Circuit Court Judge Evelyn Cannon granted a defense motion to have the case dropped.
Rivieri had been suspended, but was cleared of any criminal wrongdoing.
A Baltimore police spokesman tells WTOP Rivieri has been back on patrol for several months.
Blackford says Judge Cannon's decision essentially trumped another Circuit Court judge's decision to allow the civil case to go forward, even though it was filed more than 180 days after the deadline.
Blackford had argued Maryland's law was unclear whether a juvenile's complaint can be held to the same 180 day standard.
"The family has the right to appeal, and I believe has a very strong case for appeal," Blackford says.
The 2007 exchange between Rivieri and the then 14-year-old Bush had been surreptitiously videotaped by one of the teenager's friends. It showed the officer pointing at the teen while lecturing him.
"First of all you disrespected me, this badge, and my department. You understand me? When I'm talking to you, you shut your mouth and you listen," Rivieri said.
"Obviously your parents don't put a foot in your butt quite enough, because you don't understand the meaning of respect."
The teenager's quietly mumbled responses were barely audible. Rivieri took offense to how he was being addressed.
"I'm not 'man.' I'm not 'dude.' I am Officer Rivieri."
In the defense's pretrial statements. Rivieri's attorneys said the teen "held his skateboard in a threatening manner," prompting Rivieri to push Bush to the ground, before seizing the board.
Blackford says it's unclear whether Miller, a single mother, and her son have the money to pursue an appeal to Maryland's Court of Special Appeals.
"The city has thrown up every roadblock in this case," Blackford says. "They should have just issued an apology, and that would likely have made this go away."
(Copyright 2009 by WTOP. All Rights Reserved.)
Neal Augenstein, wtop.com
Posted by
StreetGangs.Com Staff
on Sep 22 2009. Filed under
Good Cop / Bad Cop
. You can follow any responses to this entry through the
RSS 2.0
. You can skip to the end and leave a response. Pinging is currently not allowed.