Police Officer In Sherman Park shooting charged with sexual assault
By: John Diedrich and Ashley Luthern, (Milwaukee Journal Sentinel) October 21, 20016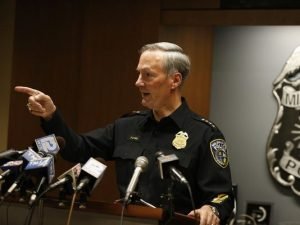 The Milwaukee police officer who fatally shot Sylville Smith in the Sherman Park neighborhood in August sat in a bar a day later, watching coverage of the violent unrest that followed and said he did "whatever (he) wanted without repercussions," according to a criminal complaint released Thursday charging the officer with sexual assault.
Officer Dominique Heaggan-Brown made those comments to a man Heaggan-Brown would sexually assault hours later after the man became heavily intoxicated, the complaint said.
Heaggan-Brown, 24, is charged with two counts of felony second-degree sexual assault, and two counts of prostitution, a misdemeanor. He also is charged with one felony count of possessing or distributing a recording of nudity without consent.
After the alleged assault on Aug. 14, Heaggan-Brown texted police Sgt. Joseph Hall, whom he considered a mentor: "Need your help big time … (expletive) up big time … but need to handle this the most secret and right way possible," according to the complaint.
Heaggan-Brown told Hall the sex was consensual, "but admitted that (alleged victim) was drunk and had 'medical issues,'" it said.
Prosecutors allege Heaggan-Brown assaulted a second man, who also was intoxicated, on July 30, and took pictures without his consent. In addition, the complaint says that Heaggan-Brown paid for sex with men on two occasions last year and this summer. The incidents all occurred at Heaggan-Brown's home, it said.
The seven-page complaint portrays the young officer as a sexual predator who assaulted men after drinking with them, paying other men for sex and boasting about special privileges he had.
The sexual assault counts are unrelated to the shooting, which remains under investigation.
"This is extraordinarily disappointing," Milwaukee Police Chief Edward Flynn said Thursday. "These are grave charges. These are charges that go to the heart of our code of conduct and our oath to protect and serve."
Heaggan-Brown currently is suspended with pay, per state law, and internal affairs investigators have recommended disciplinary charges against him, Flynn said. Heaggan-Brown has the opportunity to respond to those charges before Flynn determines discipline, which could include firing the officer.
"This is more than a little distressing but members of this Police Department take their oath seriously," Flynn said. "We investigated this case thoroughly, we went where the facts led us and have participated in drawing up serious criminal charges."
Flynn said Hall, the sergeant who received the text, reported information up the "chain of command" and remained on duty Thursday as an investigation is ongoing into his actions.
Heaggan-Brown made an initial court appearance Thursday afternoon, with attorney Michael Steinle, according to online court records. Court Commissioner Grace Flynn set bail at $100,000 and a preliminary hearing for Oct. 27.
According to the criminal complaint:
A man said he met Heaggan-Brown through Facebook in July because he was looking for another musician to help with his music. Heaggan-Brown is a rapper.
The two exchanged text messages, with Heaggan-Brown trying to meet him. On Aug. 14 — the day after the Smith shooting — Heaggan-Brown sent a text asking again to meet up. The man agreed, and Heaggan-Brown picked him up and took him to the Eastsider, a bar on E. North Ave., around 11 p.m.
The owner, Jason Growel, told the Journal Sentinel Thursday that Heaggan-Brown was a regular at the bar. Growel said he has cooperated with detectives looking into the alleged assaults, but when he last saw Heaggan-Brown two weeks ago they did not discuss the investigation.
According to the complaint, Heaggan-Brown talked to the bartender shortly after the two arrived on Aug. 14. Heaggan-Brown told the man that the bar did not sell Hennessy cognac, but keeps it on hand and serves it to him.
Posted by
ani
on Oct 21 2016. Filed under
Good Cop / Bad Cop
. You can follow any responses to this entry through the
RSS 2.0
. You can skip to the end and leave a response. Pinging is currently not allowed.