LAPD Detective in court on murder charges
KTLA News
10:54 AM PST, December 9, 2009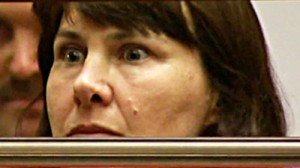 LOS ANGELES — A veteran Los Angeles police detective accused in the 1986 killing of her ex-boyfriend's wife was heartbroken when he spurned her, according to testimony.
On the second day of her preliminary hearing Tuesday, friends and colleagues said Stephanie Lazarus, 49, was desperately in love with John Ruetten, whom she dated for several years before he married the victim, Sherri Rasmussen.
The acquaintances say Lazarus was deeply upset when Ruetten broke up with her and got engaged. He married Rasmussen, a hospital nursing director, three months before her death.
Lazarus wrote in a journal that she was shattered by his engagement.
"This is very bad. My concentration is negative-10," Lazarus wrote in 1985 when she learned that Ruetten was going to wed, according to testimony.
Lazarus later wrote that she asked for time off work because she "was too stressed out about John," according to a journal entry read in court.
Former LAPD Sgt. Mike Hargreaves, Lazarus' former roommate, testified on Tuesday saying Lazarus woke him up "crying" in the fall of 1985 because Reutten had just broken up with her. Hargreaves says Reuteen told Lazarus he was getting married to someone else.
Hargreaves testified that Lazarus had earlier told him Reutten was "her idea of a perfect guy."
Lazarus is accused of shooting Rasmussen nearly 24 years ago. Prosecutors say the case against Lazarus focuses on a key piece of evidence: saliva collected from a bite mark left on the victim.
Superior Court Judge Robert Perry refused to dismiss the case against Lazarus Monday, ruling that her right to a fair trial were not violated. Her defense attorney, Mark Overland, had argued that LAPD investigators were negligent and showed reckless disregard in the probe of their colleague.
The 25-year police veteran, who handled art forgery cases, pleaded not guilty to capital murder in May. She was arrested June 5 by detectives who worked across the hall from her. She has remained in custody ever since.
During the first day of testimony for Lazarus' preliminary hearing Monday, a former criminalist from the L.A. County Office of the Coroner testified he responded to the bloody crime scene and collected a saliva sample from a bite mark on Rasmussen.
Authorities say that DNA sample links Lazarus to the murder.
Lazarus attended the hearing wearing an orange, jail issued jumpsuit, her hair braided and one hand cuffed to a metal chain belt. She sat quietly during the hearing, sometimes whispering with her attorneys.
Sitting a few feet away in the front row of the gallery, Rasmussen's parents looked on, stone-faced and expressionless.
Rasmussen's body was found by her husband in the living room of their Van Nuys condominium on Feb. 24, 1986. Investigators say she had been shot three times with a .38-caliber gun, bitten and badly beaten.
Her car, a silver BMW, was discovered 10 days after her death about two miles from the couple's condominium in the 7100 block of Balboa Boulevard, but contained no clues, police said.
Lazarus was actually mentioned in the original case file because of her involvement with the victim's husband.
She had reportedly threatened Rasmussen at the hospital where she worked and at her home.
However, Lazarus was not pursued as a suspect at the time because investigators believed Rasmussen was killed by the same men who came close to killing another woman two months later in a botched burglary three blocks from her home.
No suspects were found and the case went cold for years.
Police say Lazarus reported her personal .38-caliber revolver stolen from her car in Santa Monica shortly after the fatal shooting.
Lazarus stated that her pistol — which was the same caliber as the one used to kill Rasmussen — was stolen out of her car while it was parked in Second Street.
The gun was never found.
Santa Monica police acknowledged the theft report, but declined to make it public, citing the ongoing murder investigation.
Lazarus worked patrol duty in the San Fernando Valley when she joined the force.
She was later promoted to detective and since 2006 has worked in a unit that tracks stolen art, according to police records.
The murder charge against her includes the special circumstance allegation of murder during the commission of a burglary.
Lazarus also faces a separate allegation of personal use of a handgun.
If convicted, she could face the death penalty.
Posted by
StreetGangs.Com Staff
on Dec 9 2009. Filed under
Good Cop / Bad Cop
,
People of CA v. Stephanie Lazarus
. You can follow any responses to this entry through the
RSS 2.0
. You can skip to the end and leave a response. Pinging is currently not allowed.