$1 million in marijuana found in Central Valley drug den
By Angel Jennings/LA Times
September 26, 2013, 1:08 p.m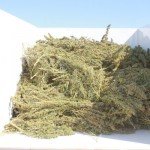 Eight men with ties to a Mexican drug ring were arrested after authorities in the Central Valley discovered a drug den filled with more than $1 million in processed marijuana, authorities said.
A narcotics team served a search warrant to residents inside the Madera home Wednesday after receiving a tip of a "menacing grow," said Erica Stuart, spokeswoman for the Madera County Sheriff's Office.
Agents seized 83 plants, 500 pounds of processed marijuana and another 30 pounds of packaged marijuana "ready to hit the streets," she said.
Authorities said they believe the rental property had been converted into a marijuana-processing center and had been in business for a while.
"This was blatant organized crime," Stuart said.
The men said they did not reside in the home but had been "dropped off" at the location and assigned to "work marijuana."
Stuart said she has seen cases in which Mexican nationals enter the United States looking for work as farmers, but are instead taken and forced to work in marijuana groves.
Authorities arrested Alfredo Santos Cruz, 23, of Madera; Jose Herrera, 18, of Lamont; Rafael Barroso Gutierrez, 23, of Sanger; Andreas Gutierrez , 27, of Sanger; Adrian Martinez Silva, 24, of Sanger; Jesus Torres Barragan, 28, of Sanger; Rodolfo Herrera Reyes, 32, of Fresno; and Julio Cesar Bricnollo, 26, of San Fernando.
The men were booked on suspicion of felony narcotics charges and placed under immigration detainer hold with Immigration and Customs Enforcement.
Stuart said Madera County has seen a proliferation of illegal marijuana operation since the passage of Proposition 215, which paved the way for the state's "Medical Marijuana Therapy" medical marijuana law. Earlier this month, she said, authorities in Madera County seized 17 marijuana groves, each the size of a football field.
"We are just finding this more and more," Stuart said. "The community is fed up."