Officer Brian Ragan of Inglewood PD involved in 2 killings
By Alex Alonso for Streetgangs.com
February 4, 2009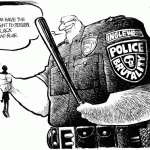 Officer Brian Ragan, who has been on the force with the Inglewood Police Department for 5 1/2 years, fatally shot 19-year-old Michael Byoune, injured Larry White and Christopher Larkins, both 19 on Crenshaw and Manchester near Rally's Hamburger because he THOUGHT they had fired a gun. Unfortunately, he was wrong, killing an innocent motorist.
Inglewood Police Chief Jacqueline Seabrooks said Ragan was on administrative leave but not too long after, Ragan shoots and kills Kevin Wicks, a postal worker at his apartment when he opened his door. Wicks, who had been robbed before came to the door with a gun according to the police and Ragan opened fire on him.
In 2008, there was a outbreak of several Officer involved shootings of mostly unarmed black and Hispanic men in Los Angeles County.
March 1, 2008 – Maurice Cox shot and killed by LAPD on Crenshaw & Slauson. Was shot at over 30 times and was hit 10 to 12 times and was unarmed.
May 11, 2008 – Passenger Michael Byoune was shot and killed and driver Larry White and passenger Chris Larkin were injured in the shooting by Inglewood officers outside a Rally's restaurant. The police opened fire on wrong vehicle.
May 18, 2008 – Long Beach police shot and killed 47-year-old Roketi "Rocky" Su'e who had just finished arguing with his girlfriend and was in the street yelling, with no shirt on when police arrived. When he resisted arrest on officer opened fire fearing for his life. He was unarmed.
July 1, 2008 – Ruben Walton Ortega, a 23-year-old alleged gang member was running from Inglewood Police when Ortega allegedly reached into his waistband causing an officer to fear that Ortega was armed shooting and killing him. Ortega was unarmed.
July 21, 2008 – Inglewood Police shot and killed federal US postal employee Kevin Wicks, 38, after officers said he had raised a gun at Officer Brian Ragan, who was responding to a report of a family disturbance at Wicks' apartment complex. Ragan was one of two officers involved in the Byoune shooting and was supposed to be on leave while the Byoune shooting was being investigated.
July 23, 2008 – Los Angeles County Sheriif's deputies shot and killed 35-year-old Lennox who they believed was a drug dealer who was reaching for a gun, according to police reports. Portillo, 35, was shot twice in the chest and died at the scene. They spotted Potillo sitting in a SUV in his driveway. According to the LASD, Portillo became startled when he saw the deputies and quickly reached under his seat. One of the deputies shot Portillo and upon a search of his vehicle, deputies found a silver colored cell phone. No drugs or a weapons were found.
August 31, 2008 – Inglewood police shot and killed Eddie Felix Franco, a 56-year-old homeless man who had a realistic-looking toy gun in his waistband. Officers fired at least 47 rounds at Franco when he appeared to reach for the gun. A nearby motorist was struck and grazed in the head by one of the bullets.
Inglewood police had shot and killed 11 people, five of them unarmed, between 2003 and 2009.
Posted by
StreetGangs.Com Staff
on Feb 4 2009. Filed under
Policing
. You can follow any responses to this entry through the
RSS 2.0
. You can skip to the end and leave a response. Pinging is currently not allowed.