Jerry Brown wants to make it easier for non-violent offenders to get parole
By David Siders | The Sac Bee
January 27, 2016 11:04 AM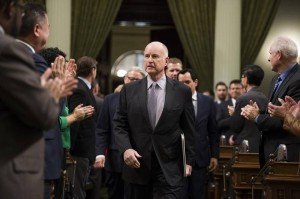 In a conference call, California Gov. Jerry Brown explains his history with sentencing law and his rationale for a prison sentence reform measure.
Forty years after signing strict, fixed-term sentencing standards into law – and more than a decade after panning them as an "abysmal failure" – Gov. Jerry Brown on Wednesday proposed a ballot measure to make it easier for nonviolent offenders to gain parole.
In a rebuke of criminal enhancements that can dramatically extend prison terms, the measure would let felons convicted of nonviolent offenses seek parole after serving only their base sentences. It would also restructure what Brown called a "crazy quilt" of credits for good behavior, benefiting prisoners who demonstrate evidence of rehabilitation.
The proposal follows a gradual turn at the Capitol from tough-on-crime policies popular in the 20th century.
The initiative language would also undo provisions of Proposition 21, the measure approved by voters in 2000 that allows prosecutors rather than judges to decide when teenagers are tried as adults. Brown will need valid signatures from 585,407 registered voters to qualify the measure for the November ballot.
Brown, announcing the measure in a conference call with reporters, said the "determinate sentencing" law he signed when he was governor before "had unintended consequences."
"And one of the key unintended consequences was the removal of incentives for inmates to improve themselves," he said, "because they had a certain date and there was nothing in their control that would give them a reward for turning their lives around."
Though his measure would not change sentencing standards, Brown said "it does recognize the virtue of having a certain measure of indeterminacy in the prison system."
Read more here: http://www.sacbee.com/news/politics-government/capitol-alert/article56841623.html