A Prosecutor, a Wrongful Conviction and a Question of Justice
by Joaquin Sapien
ProPublica, May 23, 2013, 9 a.m.
This is part of a series. Read Part 1 and Part 2.
May 23: This story has been corrected.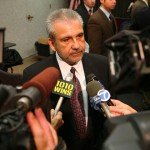 Michael Vecchione, head of the rackets division in the Brooklyn district attorney's office, takes questions from the media in 2008. Vecchione is named in the wrongful conviction lawsuit brought against the city by Jabbar Collins and Joel Rudin. (Jesse Ward/New York Daily News)
Edwin Oliva, a 29-year-old petty thief and drug addict, says he was a wreck as he sat in a chair in the Brooklyn District Attorney's office in winter 1995. A year earlier, he'd told police a lie that helped implicate a possibly innocent man in a murder. Now, prosecutors wanted him to repeat his story in court; he wanted to take it back.
Oliva says he had been on a crack and heroin binge at the time he'd made his initial claim, and that he told prosecutors he implicated the man only because of relentless pressure from police. A statement he had signed — asserting that he had heard a young man named Jabbar Collins discussing a murder plot days before a man wound up shot to death in a Brooklyn apartment building — was a fiction that detectives had fed him.
But the prosecutors, Oliva says, weren't having it. Collins, the man Oliva had fingered, had already been arraigned based in part on Oliva's word. Collins, then 21, was sitting in a Rikers Island jail cell awaiting trial, and the Brooklyn District Attorney's office was intent that he stay behind bars for a very long time. Oliva was going to be a critical witness, whether he liked it or not.
Read more here: http://www.propublica.org/article/a-prosecutor-a-wrongful-conviction-and-a-question-of-justice