Ray Nagin former New Orleans Mayor's trial postponed again
Stef Camille Streetgangs.com Staff Writer
August 28, 2013 | 12:37 p.m. PST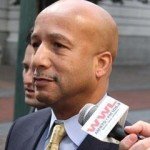 Former New Orleans Mayor, Ray Nagin got a break this week by getting his trial postponed a second time to an October 28, 2013 date.
He had already received an initial postponed date from U.S. District Judge Helen "Ginger" Berrigan, who is presiding over the case. Earlier this year, Nagin's request by his attorney Robert Jenkins to postpone trial date that was set for April 29 was moved to Oct. 7.
Nagin is accused of taking bribes from contractors while he was mayor of New Orleans from 2002 to 2010. He became known in 2005 for the aftermath of Hurricane Katrina hitting his "chocolate city". 
Nagin was indicted in January on 21 counts, including bribery, money laundering, and conspiracy and tax fraud. He pleaded not guilty in March, and remains free on a $100,000 bond. At the time of his indictment, Jenkins said he was in plea negotiations with prosecutors. The status of those negotiations remains unclear.
The bribes include money for trips for him and his family to New York, Jamaica and Hawaii. Sons Jeremy and Jarin are both named in the charges as receiving bribe money from one of the many witnesses who cut a plea deal with the prosecution.
He has denied all charges and any wrongdoing.