Coddling Joe: How Do You Collaborate With a Felon?
Michael Lacey (Phoenix New Times) | January 12, 2012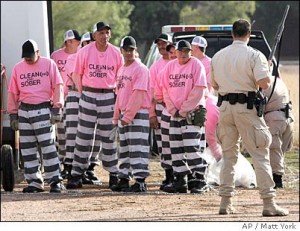 The Department of Justice, following a three-year investigation, identified Sheriff Joe Arpaio as overseer of the worst pattern of racial profiling in the history of the nation. A week later, on December 23, 2011, federal Judge C. Murray Snow allowed all Latino victims of the racial harblankment to sue as a clblank.
You might believe from these two events that the sheriff is hog-tied; the reality, however, is more unsettling.
Racial profiling is a felony.
Yet the top two black officials in the nation, President Barack Obama and Attorney General Eric Holder, intend, in the words of the Justice Department, to "collaborate" with Sheriff Arpaio to remedy the abuses.
Fully one-third of Maricopa County is Hispanic. Do the victims of racial profiling have a constitutional expectation that America's federal officials will do more than go into business with the perpetrator and perpetuator of bigotry?
The fact is that the U.S. Attorney's Office had little choice; the feds collaborated with Sheriff Joe Arpaio's Latino roundups, detentions, and deportations from the beginning.
When victims and advocates sued to stop illegal sweeps, Arpaio defied the federal courts. Repeatedly.
How do you partner with a felonious lawman who refuses to abide with something as basic as rules of evidence ?
And Arpaio also stonewalled the Justice Department by refusing to turn over any documents. He forced the feds to sue the Sheriff's Office to extract minimal compliance.
As the victims' lawsuits and the federal investigation dragged on, Arpaio hid files. His men destroyed evidence, shredded documents, and erased incriminating correspondence.
Arpaio willfully used a team of lawyers to orchestrate a cover-up that stretched over years to mask a racist culture.
Finally, U.S. District Judge Snow issued a series of orders that open the door to damages for any Latino citizen or immigrant wrongfully stopped by Arpaio's deputies. Yet even this pool of litigants is unlikely to stress Arpaio.
In offering to partner up with the sheriff, the Justice Department held out the alternative of litigation unless Arpaio cooperated.
Last week, Arpaio officially responded to the Justice Department.
With the subtlety of a drunk Marine fresh off of Parris Island, Arpaio staged a press event. In red type, all caps, and underlined, his press release screamed:
"SHERIFF ARPAIO MEETS TODAY'S DEADLINE; PROMISES TO CONTINUE FULL COOPERATION WITH INVESTIGATION BUT WILL NOT COWER AT THREAT OF LITIGATION."
Arpaio then served the Justice Department with 29 pages of demands.
Read more at: http://www.phoenixnewtimes.com/2012-01-12/news/coddling-joe-how-do-you-collaborate-with-a-felon/