Oklahoma's stealth executions are an injustice
By The Times editorial board
March 19, 2014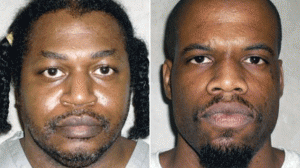 A month from now, if all goes according to plan in Oklahoma, two convicted murderers will be executed by lethal injection, and without knowing exactly how the killing cocktail was put together or by whom. Without that knowledge, they could well be denied their basic constitutional protection against cruel and unusual punishment.
The death penalty, as we've written before, is an indefensible mess of immorality, gamed judicial processes, misapplication based on race and class, and public expense. Now we can add that, at least in Oklahoma, it is being carried out in a climate of unacceptable secrecy. If the government is going to insist that it has the right to execute citizens, it must be transparent about the process and be ready to defend it in court.
Some background: In 2011, Oklahoma changed its execution law to grant the Department of Corrections considerable leeway in determining which drugs to use, and barred public disclosure of the drugs' source. Before then, the state used a protocol of sodium thiopental or pentobarbital as an anesthetic, followed by vecuronium bromide as a paralytic, then the "kill shot" of potassium chloride to stop the heart.
Read morer here: http://www.latimes.com/opinion/editorials/la-ed-oklahoma-execution-drugs-death-penalty-20140319,0,6621154.story#ixzz2wRSABNgY