How segregated is Chicago, and does it matter?
By Scarlett Swerdlow / Chicago Sun-Times
Tue, 05/27/2014 – 1:14pm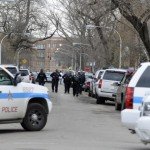 In a provocative piece sweeping the Internet, The Atlantic's Ta-Nehisi Coates makes the case for reparations. His central piece of evidence: Chicago's North Lawndale neighborhood, where nine out of ten residents are black, 43 percent of people live in poverty, and the homicide rate is three times the rate of the city as a whole.
Confronted by these facts, Coates claims, "Such is the magnitude of these ailments that it can be said that blacks and whites do not inhabit the same city."
Is Coates right? Is Chicago so segregated that blacks and whites essentially live in different cities?
We constructed a segregation score for each Chicago community area by looking at the fraction of the population that blacks, whites, Latinos, and Asians account for. A score of zero means a neighborhood's residents are all of the same race. Neighborhoods with scores closer to 100 are more diverse. In Chicago, the highest possible score is 80. See each community's score in the map below.
By this measure, Rogers Park is Chicago's most diverse community area. Whites make up 39 percent of the population, blacks 26 percent, Latinos 24 percent, and Asians 6 percent. Other diverse neighborhoods include West Ridge, the Near West Side, Bridgeport, and Hyde Park.
Read more here: http://politics.suntimes.com/article/chicago/how-segregated-chicago-and-does-it-matter/tue-05272014-114pm