$40M wrongful conviction settlement: 'The money is almost beside the point'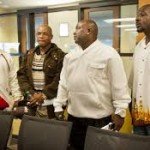 By Steve Mills and Juan Perez Jr.
Tribune reporter
12:22 p.m. CDT, June 25, 2014
Attorneys today hailed a landmark wrongful conviction settlement awarded to five men who were wrongfully imprisoned for the rape and murder of a teenage girl but called for a deeper look at authorities' use of false confessions in Cook County.
In what appears to be the largest wrongful conviction settlement in state history, the Illinois State Police agreed to pay $40 million to the so-called Dixmoor Five who were arrested as teens for the November 1991 murder of Cateresa Matthews and given lengthy prison sentences. The three men who received the longest terms were freed in 2011 after DNA tests connected semen on Cateresa to a felon who had been paroled to near where Cateresa's grandmother lived.
None of the exonerated men appeared at the press conference with their lawyers.
"Frankly, you know, the money that's being paid out is almost beside the point," said Peter Neufeld, a New York attorney representing Jonathan Barr, one of the wrongfully convicted men. "What you have here in Cook County is an epidemic. An epidemic of false confessions of juveniles, primarily people of color."
Neufeld, speaking at Chicago's federal courthouse, called for a "root cause analysis" of the problem.
"Until they do that kind of analysis, and until they have an independent investigation, you are doomed to continue to repeat those kinds of errors into the future. And that would be a catastrophe."