Girl frightened during race riots grows up to be first black mayor of central Pa. city
by Marc Levy (Associated Press)
November 28, 2009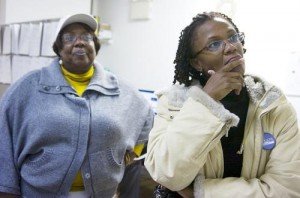 YORK, Pa. (AP) — A little girl who trembled in her house as a National Guard tank rumbled past during York's chaotic 1969 race riots has grown up to become the first black mayor of the central Pennsylvania city.
Kim Bracey, 45, an energetic veteran of the struggling manufacturing city's improvement efforts will take office in January, to the delight of many African-Americans who thought they would never see a black mayor.
"President Obama was one thing, but here in York where few people vote … I really didn't think I would live to see this take place," Bracey said in a recent interview at her transition office.
Racial harmony or becoming York's first black mayor was not part of Bracey's platform. In fact, she hadn't even thought about it until a reporter brought it up after she won the "White Rose" city's four-way Democratic primary in May.
Rather, Bracey will inherit a city of 40,000 that is barely able to pay its bills as it loses the manufacturing jobs that helped build it up. Poverty is becoming as entrenched as the racial animosity that led to York's deadly riots 40 years ago.
U.S. census statistics show a city in which average family income is half of Pennsylvania's, while the poverty rate for children is three times as high, at 48 percent.
One unemployed city resident, Butch Maxfield, said race is less important to Yorkers than poverty, crime and how to help the city's aimless young people.
"Everybody's poor. There's no jobs," said the 58-year-old Maxfield, who is black. "Now it's about 'what can you do for me?'"
Still, Maxfield and many others view Bracey's election as an achievement in a city that has a legacy of racial strife.
The 1960s saw a buildup of black resentment against a city administration that they said systematically ignored their community's needs and a police force that used dogs and other tough tactics to antagonize blacks.
In 1968, the year the assassination of the Rev. Martin Luther King Jr. plunged the nation into deepening racial turmoil, a state human rights commission admonished York for its polarized racial atmosphere and warned of the potential for violence.
In July 1969, York exploded.
Violence between white and black youths unleashed more than a week of mayhem. Buildings were set afire, police barricaded black neighborhoods and enforced curfews and the National Guard rolled in on tanks to try to restore order.
Amid the chaos, a white police officer, Henry Schaad, suffered a fatal gunshot wound while riding in an armored vehicle that came under fire. Four days later, Lillie Belle Allen, a young black mother of two visiting from Aiken, S.C., died in a hail of gunfire when her car stalled while she was trying to steer away from white gang members.
The slayings went unpunished and questions unanswered for three decades until prosecutors, acting on new information dug up by reporters, began asking questions.
Eventually, they charged 12 people, including Charlie Robertson, the mayor at the time, in an extraordinary investigation that grabbed national headlines. Two white men were convicted of second-degree murder in Allen's slaying, while seven others pleaded guilty or no contest to lesser charges. Two black men were convicted of second-degree murder in Schaad's death.
Robertson, a police officer during the riots who was accused of stirring up white gang members and inciting violence against blacks, was acquitted.
The trials proved to be cathartic, if uncomfortable, for many in the city. More than six years after the last person went to jail, some blacks say they don't feel as though the city is entirely integrated.
"I'm 36. I've never been in trouble with the law and I'm still a suspect," said Shawn Ford, who runs a general contracting business in York and is black.
Many other cities that were scarred by race riots — Detroit, Newark, Los Angeles and Cleveland — elected their first black mayors many years ago. But analysts say York's black population has always been a minority — it is about 26 percent, according to census records — and it is only recently that new Hispanic residents have diluted the voting power of whites.
Bracey, who went to college and served a decade in the Air Force, had the city's teenagers and young adults on her mind when she decided to return to York to work in youth and civic programs.
"The sense of apathy and loss … was so prevalent in the eyes of the young people. I knew when I came back I had to help that," she said.
After nearly a decade working for nonprofit organizations, she became the city's director of community development in 2003 and a top adviser to outgoing Mayor John Brenner. She quit in January to run for office, soundly beating three opponents — including a white city councilwoman — in the Democratic primary.
Bracey's victory in the general election was a breeze, with her Republican opponent never mounting a serious candidacy.
On the Nov. 3 election day, Bracey was out greeting voters at a polling place when a woman rolled up in a van. Inside was her young daughter, probably 10 or 11, who had wanted to meet Bracey and get her autograph.
"We started talking — 'Well what do you want to be when you grow up?' — and she wants to be a lawyer," Bracey said. "I'll never forget it. It was really humbling to think I came home for this purpose. And here it is, it's happening. I'm making a little difference here in this little girl's life."