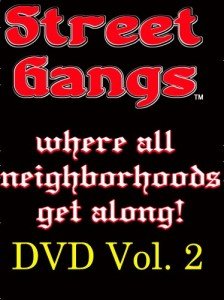 14.99
1. Jewelry Heist in La Puente Caught on Tape (7 min).
2. Racism Against Bellevue Residents : Residents of East St. Louis are accusing the City of Bellevue of racism when it comes to police officers pulling vehicles over on the highway that connects the two cities. A study by a local newspaper revealed that Black motorists are disproportionately targeted by police officers (13 min).
3. Snoop Dogg Walking in Court for Murder Trial (1 min): Calvin "Snoop Dogg" Broudus" is mobbed by the cameras while walking into the Criminal Courts Building in downtown Los Angeles during his murder trial.
4. LA Sheriff Police Catch an Auto Theft on Tape (5 min).
5. Man and Pregnant Wife Shot in Paramount, CA (2 min)
6. Corrupt Miami River Police, Armando Garcia wanted (6 min)
7. Gangs in Prison in Menard & Pontiac, IL (3 min)
8. Asian Gangs in Los Angeles, Tiny Rascals (19 min)
9. Three Pasadena Blood Gang Members Sentenced to Death (3 min)
10. Hispanic Gangs Members in Inglewood (2 min)
11. Drug Lord Danilo Blandon tied to CIA (5 min)
12. Post-Mortem Report on Gang Member Ricky Michaels (6 min)
13. LAPD Investigate a Hispanic Gang Related murder in Southeast LA (3 min)
14. Report on the Mexican Mafia's Influence in Prison (2 min)
15. LAPD Investigate the Case of Willie Bogan LAPD detective try to figure out which gang members murdered Willie Bogan in Los Angeles on Wadsworth Ave in 1996 (5 min)
16. Maxine Waters Calls for Probe of CIA's Relation to Drug Smuggling (2 min)
17. First Ever Female Chain Gang in Phoenix (1 min)
18. LA City Hall Holds Hearings on Gang Violence (2 min)
19. LAPD Drug Strings in Northridge (10 min)
20. Los Angeles Doubles Its Spending to Fight Gangs (1 min)
21. LAPD Officers Find Large Stash of Coke and Chase a Suspect (9 min)
22. Special Report on Jamaican Gang Leader Eric Vassell (8 min)
$15.99