Compton teen charged with double murder proclaims innocence after police drop murder charges

STREETGANGS.COM | October 30, 2013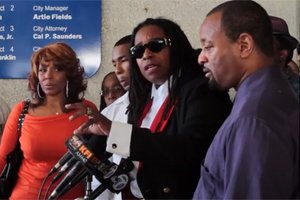 Inglewood – Murder charges have been thrown out against Compton teen Justin Scott, after security videos indicated that he was miles away in a smoke shop during the murders.
On Tuesday October 28, 2013 Los Angeles Superior Court Judge Victor Wright dismissed charges against Justin Marquis Scott, 19, of Compton, citing new evidence.
Scott was arrested on Oct. 8 following a shooting that left two women dead and a man injured at an apartment complex in Inglewood.
The two female victims were identified as 18-year-old Crystallyn Nguyen and 64-year-old Dora Lee Dawson. It was later determined that Scott was Nguyen's ex-boyfriend. The 64-year-old was the grandmother of Nguyen's new boyfriend.
Defense attorney Juliette Robinson said surveillance videos proved her client was in Compton and not in Inglewood during the time of the shooting.
Date: October 30, 2013
Location: Inglewood Police Department, Inglewood, CA
Persons: Juliette Robinson, Najee Ali, Justin Scott