Asian Gangs in Gardena, California
Home > Asian Gangs > Gardena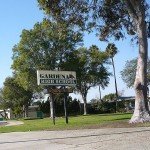 Gardena is a city in the Harbor Gateway neighborhood in southern LA County. It is bordered by Athens to the north, Torrance to the southwest, and Hawthorne to the northwest. Before the Civil War, the area of Gardena was called Gardena Valley. In order to avoid heavy county taxes, Gardena incorporated as a city in 1930. The city's total area takes up 5.8 sq. miles of land.
According to the 2008 US Census, the total population of Gardena is 58,620 people. The racial makeup is fairly even among Whites, Blacks and Hispanics. Of the residents, 36% are Hispanic, 23.6% are Black or African American, 21.1% of residents are White, and .2% are Asian.
Approximately 35.1% of residents are foreign born, and 53.8% speak a language other than English in the home. About 19.6% of residents have a bachelor's degree or higher and 80.1% have a high school degree. Also, 13.8% of families and 14.4% of individuals live below the poverty line.