Westside Rollin 60s NeighborHood Crip [RSC, R.60s, NH R.60s] are a predominately African-American street gang in the Hyde Park area of South Los Angeles, California. They are among one of the largest gangs geographically and numerically the several hundred Black gangs in Los Angeles County, California. They have been active since the mid-1970s after the the larger West Side Crips, which formed in 1971, began to splinter into more geographically specific neighborhood groups.
RSC are the first gang to use the term "Rollin" and were involved in the first Crip-on-Crip rivalry when in 1979, the RSC and Eight Tray Gangster Crips (ETG) began a feud that has lasted over 3 decades with about 60 deaths among the two gangs with nearly hundred innocent bystanders, making this rivalry the most deadly two-gang conflict in California's history, but the rivalry has calmed down during the first decade of the 2000s as crime dropped throughout the city.
RSC has a few sections of the larger territory which includes the Avenues, Overhills (Bacchood), The Dime and Front Hood.
Because of their enormous size in numbers, they have been able to dominate areas outside their traditional neighborhood. For example, during the 1980s, members of RSC would travel north across town to the World-on-Wheels skating rink located in rival School Yard Crip's (SYC) neighborhood. Often times, the SYC could not do anything about their presence, and they would have to retreat south across Venice Blvd into their turf when large numbers of RSC members would visit the skating rink. At times, the SYCs would attempt drive-by shootings at RSC members hanging out in front, but every weekend they would return, provoking additional shootings, all this happening adjacent to the Wilshire Division of the Los Angeles Police Department.
For many years, their main rival to the east are the ETGs. This would be the most intense rivalry between any two individual Crip gangs in all of Los Angeles County in the history of street gangs conflict during the 1980s. Although there are longer rivalries among other Los Angeles gangs, such as the one between the White Fence and El Hoyo Maravilla, which goes back to about the 1920s, the conflict between RSC and ETG has been more violent, especially during the period between 1980 and 1995.
The RSC and ETG rivalry started Crip infighting which created a divide between Neighborhood Crips and Gangster Crips also known as Trays. This rivalry is discussed in Monster Kody's 1993 book, Monster: Autobiography of an LA Gang Member and Donald Bakeer's 1987 book, Crips.
Other rivals to the Rollin 60s include Inglewood Family Bloods to their south, Van Ness Gangsters Bloods to their east and Centinela Park Family Bloods to their west in the neighboring city of Inglewood.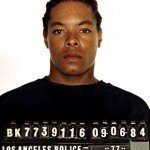 A Rollin 60s Crip member made news headlines in 1984 when member Tiequon Aundray "Lil Fee" Cox, 18, (b. 1966) sought revenge against a person in a non-gang related matter, and went to the wrong house where he and two accomplices (Horace Burns and Darren "C-Dub" Williams) executed four family members of former NFL Rams player Kermit Alexander. Cox was convicted in 1986 for committing quadruple murder and was sentenced to death and sits on San Quentin's death row. Williams too was sentenced to death but then had his sentenced commuted to 4 consecutive life terms (100 years) while Burns was sentenced to life without parole.
While on death row, Cox, 23, stabbed original West Side Crip co-founder Stanley "Tookie" Williams, 35, on one of the 6-mini yards at San Quentin in 1988. This act was depicted in the 2004 film Redemption starring Jamie Foxx but many suggested that the incident didn't play out as it did in the film.
In 1988, Rollin' 60s Crip member, Durrell Dewitt Collins, 21, was arrested for the shooting death of Westwood patron Karen Toshima, 27. According to court documents, Collins was attempting to shoot a rival Mansfield Gangster Crip member, Tyrone Swain, when Toshima was accidentally struck. Although street gang conflict among blacks was on the rise since the early 1970s in South Los Angeles, it was the killing of Toshima that bought national attention to the 1980s gang conflict of Los Angeles. Gang related murders were occurring at the rate of nearly 2 per day with many innocent bystanders, but this type of violence would not be tolerated in the affluent Westwood community of Los Angeles of a non-black victim.
1988 Interview of Rollin 60s members, Creeper, Lil Creeper, Lil Low Down and E-Bone.

Chief Daryl Gates for the first time increased gang officers, a reward was immediately announced for the arrest of the shooter, and Westwood immediately increased police patrols. From the unprecedented attention this shooting received, Los Angeles Councilman Robert Farrel was quoted saying, "Unfortunately there is a perception that a life lost in South Los Angeles and East LA does not measure up to a life lost in Westwood."
Collins was convicted of murder and sentenced to 27 years to life. Under the old sentencing guidelines Collins was eligible for parole in 2002 but he remains incarcerated.
In 2003 Los Angeles City Attorney filed a gang injunction against the Rollin 60s Crips specifying 31 men that were members and associates of the 60s, but some have suggested that the 60s were being unfairly targeted including individuals that had not had police contact in fourteen years. In 2018 Chief U.S. District Judge Virginia A. Phillips ruled that most gang members subject to gang injunctions in Los Angeles suffered a due process violation, since the city did not give them an opportunity to challenge the civil restraining orders in court. Los Angeles is barred from enforcing these restraining orders since 2017.
One of their geographic Blood rivals would be the Van Ness Gangsters (VNG) to the north. Since RSC members attended Crenshaw High School, north of Slauson, they often clashed with the VNGs and because the VNGs are a smaller gang with less membership, the RSCs have been able to dominate the school population even though the high school is outside their turf.
Other rivals would include all Hoover sets, especially the 83 Hoovers and 74 Hoovers and all Gangster Crips that are hooked up with the Eight Trays such as the 53 Avalon Gangster Crips and 43 Gangster Crips.
In 2008, Guy Lawson published an article entitled, The Inside Man, for GQ Magazine about a Rolling 60s Crip gang member who was moonlighting as a confidential informant for the Los Angeles Police Department. Several statements in that article have not been supported by historical facts, and several suggest that the article has been fabricated.
One of the biggest success stories coming out of this community is the rapper Nipsey Hussle, who released three mixtapes, "Bullets Aint Got No Name" from 2008 to 2009. He has continued to record music, opened up a clothing store and has become one of the biggest rap artist coming out of Los Angeles.
Deceased Members of Rollin 60s Crips
2 Tall, November (November 2003), shot by a Hoover member
Al Dog aka Amp (1994)
Al Dog 2 ( – 1998)
Anthony "Ant Dog" ( – 1997)
B Jay ( – 2001)
Baby Bone aka Big Crip'n Sam ( – 2003)
Baby Face ( – 198?)
Bam 2 / Nicki Bam* ( – 1998)
Steven "Bang 3 / Twin" Johnson, 21, ( – June 23, 2012)
Banker Te (1994), was killed during the early summer.
Baby Be ( – 1997)
Be Be ( – 198?)
Bear Claw 3 ( – 1997)
Ben ( – 1996)
Benzo
Big Daddy, (1980)
Bird (1993)
Bird 2 (1994)
Blazer D
Blue Shay
Kelly "Bo De" Jamerson, 28, (May 29, 1966 – March 16, 1995), beaten to death during South Train Music Awards after party at El Rey Theater on Wilshire Boulevard by multiple people.
Bogart 4 ( – 1996)
Bolt 3 (? – ? )
Boo Roc 1 ( – 2000)
Richard Lloyd "Boo Roc 2" Brewer Jr. ( – July 25, 2000)
Davon "Boo Roc 5" Vargas, 26, (Nov. 15, 1985 – April 8, 2012)
Bone 3 ( – )
Boobie Clark 2 (1991), see Creepy 3
Bosco (1995)
Bosco 2 (2002)
Box Head (1996)
Box Head 2 (1994)
Ricky "Boxer 2" Allen (10/06/1970 – 10/09/1993), 22, killed by Banning Police
Bubba 3 ( – 1998)
Bubbs 3 ( – 1998)
Bunky 2
Casper 1 (1991)
Casper 2 (1986)
Cat Walk Capone ( – Sept. 2004)
Cee
Cee Cee
Chicen
Chico (1990)
O/G Chilly Capone( – 198?)
Antonio "Coop" Cornwell ( -April 14, 2017), was killed on South Sepulveda Blvd & National Blvd on
O/G Corneil Dog ( – 198?)
CowBoy
Antonio "Crafty Blue" Riley ( – August 27, 2013), shot and killed on 64th Street & 5th Avenue
Omar "Crazo" Saunders, 39, ( – April 22, 2014)
Crazy Boy 1 ( – 1991)
Crazy Boy 3, (August 1988)
Creep aka Kay Dogg* ( – 1994)
Creep Crazy
Creepy 4 aka Boobie Clark (1995)
O/G Crip Cal (1995)
Crip Crazy 3 (1992)
Crip Crazy 4 (1994)
Crimm 2 aka Lil Mighty Moe ( – December 1995)
Cudoo (1989)
Cyco 1 (1993)
Cyco Mike (1994)
Daddy Amp
Dana
Darnita Loc ( – 1999)
Delta Charles "D.C." Thomas, 21, (May 21, 1959 – Sept. 1, 1980), shot and killed by a Eight Tray Gangster Crip
De Dog aka Dexter (1994)
Dee Money ( – 1995)
Dev Dog
Dev 4 ( – 2002)
Dwayne "Draws 2" Dupree, 23 ( – October 20, 1999)
Andre "Big Dre" Romain
Dre Bone ( – 198?)
Droopy 4 (1989)
Duke 2 ( – 1998)
Duke 3 ( – )
E-Mac (1994)
Earl Dog, aka Lil Looney, aka Ripper* ( – Dec 1990)
Eddie Boy 3
F Bone aka J.J. ( – 1998)
Fat Rat
Darrell "Fee 1" Drake, 30, (January 31, 1960 – November 28, 1990)
Fee 3 (1993), died as a result of an accidental suicide with a firearm
Ge Bo ( – 2002), died from an overdose
Ge Bob 3 ( – 1998)
Gumby 3 ( – 1997)
Jermaine "Gun Smoke aka GS" Jones, 25, ( – Feb 23, 2007), shot and killed in Gardena
He Man ( – 2002)
Baby Hoggs
O/G Hollister ( – 198?)
Hoodsta Boy
Keshawn "Huc-a-buc 4" Corbin, 17, (May 14, 1994 – Oct. 16, 2011), Was shot and killed on the 6700 block of 11th Avenue when three men got out of an SUV and opened fire on him while he was riding a minibike a 1:35 a.m.
Trayvon Noel "Huc-A-Buc 5" Jackson aka Shady Huc, 16 ( – August 27, 2013)
Ice Man 2 (1993)
Ice Man 3 (1994)
Insane 2 aka Bozzo (1993)
Ive Dogg 2 (1994), died as a result of an accidental suicide with a firearm
J-Mack ( – 2002)
Jay Blade ( – 198?)
Jay Dog 2 ( – 199?)
Tiny Jay Stone 4 ( – 1998)
Joe Stone ( – 1989)
John John ( – 198?)
June Boy
K-Dog aka Big Creep ( – 1995)
K-Fish ( – 198?)
K-Mac 3 ( – 1995)
Kawani
Kay Dee ( – 1992)
Kay Dogg aka Big Creep* ( – 1994)
Keda Mack ( – 2000), died from brain cancer.
Kenny "Ken Bone 1" Johnson, 18, (Feb. 18, 1965 – May 23, 1983)
Ken Bone 4 (1985)
Kenny Mac 3 aka Baby K Mac (1994)
Kev Rocc
Kevin Anthony "Kidd 1" Sykes, 18, (Jan. 13, 1965 – May 22, 1983)
Louis Derron "King Lou" Davenport
Deshawn "King Lou 2" Sanders, 23, ( – Feb. 7, 2010), shot and killed on the 4500 block of 3rd Avenue
King Lou 5 (? – ?)
L.F.
Le Macc (1991)
Lil Looney aka Earl Dogg* (December 1990)
Maniac (1983)
Maniac 2 (1984)
Mar Roc 1 (1987)
Ernest "Marco 3" Dabs ( – July 25, 2002)
Baby Moody
Muchie 2 (? – ?)
Jovoni "Mud Roll / MoRo" Thomas, 27, ( – June 22, 2012)
Mudd 1
Mudd 2 (1995)
Mudd Roll 2
Muggs 2 (November 1983)
Mugzy
Stanford "Mumbles aka Wino" Bursey, 24, (Aug. 16, 1961 – Sept. 7, 1985)
Mumbles 2 (1984)
Mumpy 2 aka Poochie* (1989)
Nardo 1
Nardo 2
Nardo 3
Nate Dog
Nelsie
Nicki Bam aka Lil Bam* ( – 1998)
Ermias "Nipsey Hussle" Asghedom (1985 – March 31, 2019)
Nut
Old Man 1 (December 1989)
Overhill Blue ( – 200?)
Pat Wack (1990)
Peanut 2 (1993), died on accident after sitting on a gun
Peanut 3 (1995)
Peanut 4
Peatie Wheat ( – 198?)
Pie Face ( – 198?)
Thomas "Pimp" Martin, 25, (Sept. 26, 1956 – Sept. 8, 1982) shot and killed by Eight Tray Gangster Crip member.
O/G Pinky (1990)
Poncho
Poochie aka Mumpy 2* (1989)
Popeye ( – 198?)
Pricey
Quarter Pound
Rat Loc
Ray Cat 2
Reny
Ricky "Rico Suave" Hill Sr. (1957 – 2002)
Ricc Rocc 1
Marquis "Tiny Ricc Rocc" Wilson, 23, ( – July 22, 2012), shot and killed at Shell gas station on Slauson & Crenshaw
Ripper 4 ( – 1997)
Roc 2 ( – 1998)
James "Rodzay 3" Monroe Daniels III, 36 ( – July 16, 2013)
Ron Ron ( – April 1990)
Ru Rock
Rudy Mack (1990)
S-Born
S-Dome ( – August 24, 2005), shot and killed on 10th Avenue.
Sador "Sandman Negus" Fasehaye (1986 – Sept. 27, 2012)
Sexy Foot
Scatterbrains ( – January 1990)
Scoldie 1 ( – 1980)
Damon Leroy "Lil Scooby" Jones, 37 ( – March 2014), shot and killed on 6800 block of 11th Avenue.
Christopher "Shamroc" Nettles ( – April 1, 2012), stabbed to death in the city of Hawthorne.
Shorty 1 ( – )
Shorty 3 ( – 1988)
Shyster 2 ( – 2003)
Sin Bad 2
Sin Bad 3 ( – April 2014)
Slim 2 ( – 1986)
Slim 3 ( – 1995)
Slim 4 ( – 1997)
Leonard "Slip Rocc 1" Cooper ( – January 2, 2009
Slugger 1
Slugger 2
Sniper 3 ( – 1995)
Snoop 2
Squally De ( – 1989)
Squeek 2 ( – 1995)
Steve Dogg
Keith Cardell "Stone" Thomas, 30, (1962 – Jan.30, 1992)
Swantoe ( – 2003), shot near Crenshaw plaza on 59th and Crenshaw Blvd
Swantoe 3 ( – 2002)
Taco ( – 2007)
Tadpole 2 ( – 1993)
Te Mack ( – 1990)
Teita Rock aka Big Boo Boo ( – 1994)
Thirsty O 1
Thirsty O 2
Trigger ( – 2022)
Ty Bud
Tyrone Hardeman, 15 (July 25, 1963 – March 8, 1979)
Jason "Wack 3" Rowden ( – July 25, 2000)
Michael "Weasel 2" aka Low Down 1 ( – August 1986)
Weasel 3 aka Low Down 2 ( – 1991)
Weegy
Wolfe ( – February 1994)
* = Name appears twice on list