Crip Gangs in Palmdale, California
Home > Crip Gangs > Palmdale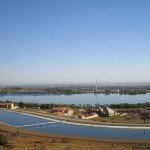 Palmdale is a city located within the Antelope Valley in the northeastern part of Los Angeles County. The city as a total area of 105.1 sq. miles. Along with Lancaster, it is separated from Los Angeles by the San Gabriel Mountain range. Over the last 25 years this city has consistently been ranked in the top 25 fastest growing cities in the United States. As of the 2000 US census, the city population was 116,670, and as of January 1, 2010, the California state department of finance estimates Palmdale proper has a total population of 152,622.
The most important industry for Palmdale is the aerospace industry. However in recent times, other manufacturing companies have relocated to Palmdale seeking more affordable land, proximity to Palmdale Airport, and special tax breaks. Palmdale refers to itself with the nickname the "aerospace capital of the United States", and has been the site of research, development, final assembly, and flight-testing of and many aircrafts that have been used in the United States Air Force, NASA, and air forces and airlines around the world.
According to the 2008 census, the majority of Palmdale residents are Hispanic and White, with 52.4% of residents are declared Hispanic, 42.2% are White, 4% are Asian, and 13.6% are Black or African American. According to the census, 25.6% of residents are foreign born. Approximately 15.1% of residents have a bachelor's degree or higher and 73.1% of residents have a high school degree. Also, 13.8% of families and 9.6% of individuals live below the poverty line.