Voletta Wallace Knows Puff Daddy & Suge Knight "Had Some Responsibility" In Biggie's Murder, Retired LAPD Detective Greg Kading Asserts
By Soren Baker | HIPHOPDX
February 21, 2016 | 11:30 AM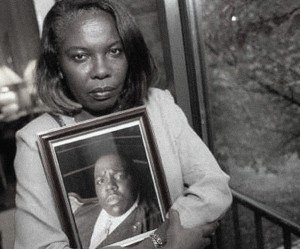 Voletta Wallace knows Puff Daddy and Suge Knight "had some responsibility" in the murder of her son, The Notorious B.I.G., according to retired LAPD detective Greg Kading.
Kading makes the claim during an interview with "Murder Master Music Show." The former officer was also featured prominently in Murder Rap: Inside The Biggie & Tupac Murders, a film released earlier this month that names the killers of Biggie and Tupac.
During the "Murder Master Music Show" interview, Kading says that he went to Wallace's house before the release of his 2011 book, Murder Rap: The Untold Story of the Biggie Smalls and Tupac Shakur Murder Investigations.
While on the visit, Kading says that he "sat down with her and explained to her what we had discovered in the police investigation. We sat there and it was a very emotional encounter, because she was, I think, understanding clearly what had happened, and I think she was starting to see that other people were responsible than who she had previously believed based on the Russell Poole nonsense."
In Murder Rap: Inside The Biggie & Tupac Murders, Kading explains why the investigative work of Poole, who was on the Biggie and Tupac cases before him, was not accurate.
Read more here:http://hiphopdx.com/news/id.37585/title.voletta-wallace-knows-puff-daddy-suge-knight-had-some-responsibility-in-biggies-murder
Posted by
Stef Camile
on Feb 21 2016. Filed under
Entertainment
,
Features
,
News
. You can follow any responses to this entry through the
RSS 2.0
. You can skip to the end and leave a response. Pinging is currently not allowed.