Home > Hispanic gangs
Hispanic Gangs in Los Angeles County | 18th Street | Mara Salvatrucha | MS13 | Diesiocho | Eighteen Street
Hispanic Gangs in Los Angeles County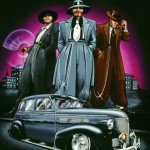 There are about 500 Sureño Hispanic gangs in Los Angeles County representing over 50 percent of the gang membership. All Los Angeles Hispanic gangs along with gangs in other Southern California cities are commonly referred to as South Siders and the 13 refers to this geographic identity. South Siders can be found in Bakersfield (N) to San Diego (S).
One of the oldest Hispanic gangs in Los Angeles is called Dog Town Rifa, located in the William Mead housing projects that were built in 1942. The gang had actually been in that area since 1890 when it was a multi-racial group of Irish immigrants, Mexicans and other ethnic groups that lived in the Chinatown area north of downtown Los Angeles.
Other old Hispanic barrios include Temple Street (1923), White Fence (1925) in Boyle Heights, 38th Street in South LA, Canta Ranas (1920s) in Santa Fe Springs, Canoga Park Alabama (1930s) & San Fers in the Valley, Clanton (early 1920s), Florencia, El Hoyo Maravilla, Artesia (1940s), Hawaiian Gardens (1940s), Dog Patch (1940s), and Big Hazard (1940s).
They are geographically dispersed throughout the county and city and not concentrated in one section of Los Angeles. They are found in significant numbers in the San Fernando Valley, San Gabriel Valley, the Beach communities, Long Beach, Compton and South Los Angeles. Below is a list of cities/places in Los Angeles County where Hispanic gangs are currently active.