Hacienda Heights, California – Hispanic gangs
Home > Hispanic Gangs > Hacienda Heights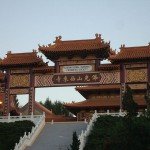 Hacienda Heights is an unincorporated census-designated place in and below the Puente Hills of the San Gabriel Valley, in Los Angeles County. It is bordered by La Puente and West Covina to the North, Whittier to the West, La Habra to the South and Rowland Heights to the East. Hacienda Heights is predominately a residential neighborhood. It occupies 11.4 sq miles of space.
Hacienda Heights is best known for being home to the His Lai Temple (meaning 'Coming West") the largest Buddhist temple in Southern California. According to the 2008 US Census, the total population of Hacienda Heights is 51,056 people. 40.6% of residents are Hispanic, 37.5% are Asian, 37.1% are White, and only 1.2% are Black or African American. 21.4% are recorded as some other race.
41.5% of residents are foreign born, and 63.6% speak a language other than English in the home. 33.4% of residents have a bachelor's degree or higher and 83.6% have a high school degree. Only 5.4% of families and 7.1% of individuals live below the poverty line.