Mara Salvatrucha – Mid City area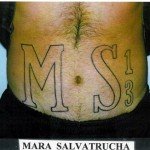 Mara Salvatrucha is a predominately El Salvadorean gang that originally started in the Pico-Union section of Central Los Angeles around 1980. As of 2013, there are about 5 different autonomous MS gangs in Los Angeles, with approximately 15 different clicks.
During the 1990s, an MS gang formed in the Mid City area along Bronson and Norton Avenues between Pico and Olympic. The clicks common in this are are Adams Locos (ALS), Bagos (BGS) and Tiny Winos (TWS).
In recent years, youth from this same neighborhood have been trying to forge a new identity, Varrio Bronsone (BSE) off Bronson Avenue & Venice. As of the Summer of 2014, both these identities have been struggling to become the dominant group.