Varrio Avenues [AVES, Avenidas, LA Aves] is a predominately Latino street gang located in the Northeast section of Los Angeles. The gang is located in an area along the 110 Freeway from Loretto (south) to approximately Avenue 60 (north) and has been claiming this area since the late 1940s. This territory is approximately 0.70 square miles.
The Avenues also occupy a second territory in the Glassel Park of Los Angeles. Their other territory is approximately 0.76 square miles. Both territories combined occupy a space of 1.46 square miles.
The clicks on this side of the territory includes 43rd Street and 57th Street and the clicks in the Glassel Park area are Drew Street, Division Street and Cypress Avenue.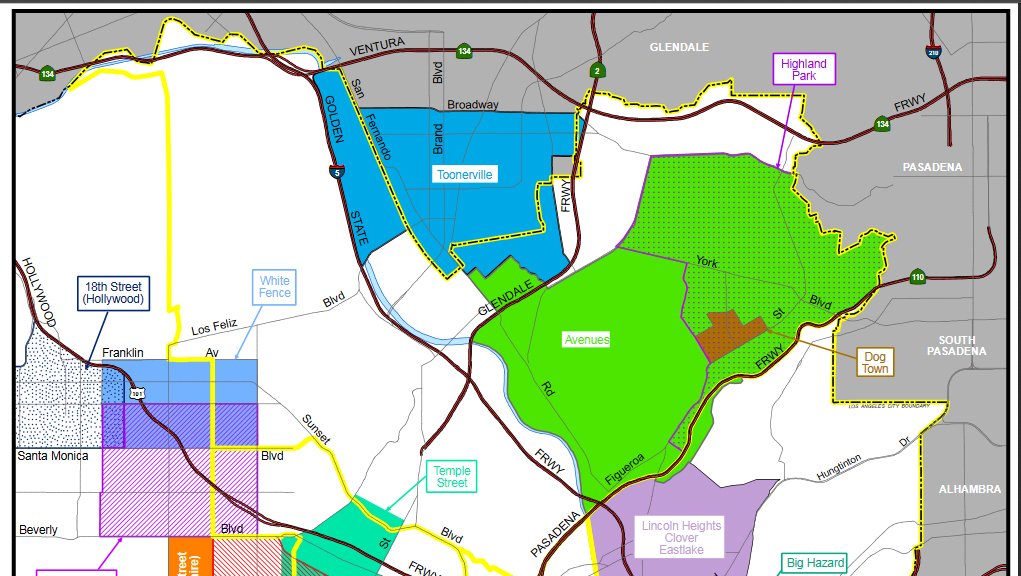 In 2003 the City of Los Angeles filed a gang injunction in civil court against the Avenues gang and defined a 9-square mile "safety zone" that prohibited members from associating with each other. The area in green was designated the Avenues safety zone, but in 2018 A federal court issued a landmark ruling that halted all of the City of Los Angeles's enforcement of gang injunctions, that many looked at as an arbitrary police practice that subjected thousands of Los Angeles residents — mostly men of color — to probation-like conditions for years without hearings and solely based on the city's assertion that they were gang members.