City of Commerce, California – Hispanic gangs
Home > Hispanic Gangs > City Commerce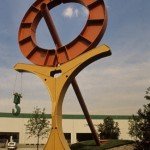 The City of Commerce was originally known as the community of Harmony Grove, founded in 1818. Harmony Grove incorporated in December 1884 and then 25-years later officially changed their name to Commerce in 1909.
The city flourished as a cotton market and eventually became synonymous with textiles when local businessmen launched Harmony Grove Mills in 1893. In addition to having roots in business, Commerce also has a rich cultural history. Most notably, the Harmony Grove Female Academy was the first school for girls in the state of California and was established in 1824. Later, the city would serve as the setting for the novel "Cold Sassy Tree" written by Olive Ann Burns.
Commerce contributed to state politics when local Larmartine G. Hardman served two terms as governor from 1927-1931. Mr. Hardman was a well respected physician who built a mansion in downtown Commerce known today as "The Hardman House."
Commerce is actually a suburb within LA County. It is sometimes referred to as the "City of Commerce" for distinguishing purposes. It located right in between the Interstate 5 and the Interstate 710 near their junction. The Los Angeles River forms part of its southwestern boundary. The city has total area of 6.6 sq. miles. In the late 1940's the area was named "commerce" by the local residents and communities who wanted to encourage commerce in the area.
Commerce residents enjoy many civic services funded solely by the taxes accrued on the local gambling establishment, the Commerce Casino and which accounts for 46% of Commerce's tax revenues. Commerce is one of the few cities in California that provides its residents with free bus fare services.
According to the 2000 census, Commerce's total population is 12,568. 93.6% of residents have some type of Hispanic makeup in their blood, 44.8% are White, 1.1% are Asian, and .8% are Black or African American. Only 4.6% of residents have a bachelor's degree or higher and 45.8% have a high school degree. 38.8% are foreign born and 76.2% speak a language other than English at home. 17.9% of individuals and 15.4% of families live below the poverty line.

Hispanic gangs in Commerce
Bandini Midgets (defunct)