Downey, California – Hispanic gangs
Home > Hispanic Gangs > Downey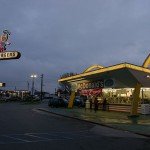 Downey is a city located about 13 miles southeast of Downtown Los Angeles. It is located just west of the interstate 5. It is incorporated in the cities of South Gate, along with Bell Gardens, Pico Rivera, Santa Fe Springs, Norwalk, Bellflower, and Paramount. Downey occupies 12.4 sq. miles of land.
Downey was founded by former Civil War governor of California, John Gately Downey. The Southwest Pacific Railroad built in 1873, brought many farmers in the area who grew grain, corn, and fruit until the 1940s. In the 1930's Downey was described as an "orange-grove town". Downey is home to the oldest standing McDonalds in the world, and the first Taco Bell.
According to the 2008 US Census, the total population of Downey is 155,800 people. 70.4% of those residents have some type of Hispanic makeup, 57.5% of residents are White, 6.5% are Asian, and 3.2% are Black or African American. 33.8% are foreign born, 66.5% speak a language other than English in the home. 7.5% of families and 9.1% of individuals live below the poverty line. In response to gang activity rise in the 1990's, Downey formed a community based organization called GOOD (Gangs Out Of Downey).
Hispanic Gangs in Downey, California