Duarte, California – Hispanic gangs
Home > Hispanic Gangs > Duarte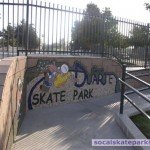 Duarte is a city along the San Gabriel Mountains within Los Angeles County. It is right off the Interstate 210, in between Monrovia and Azusa. Duarte is also located along the historic Route 66, which runs directly through the city. Duarte has a total area of 6.7 sq. miles of land.
Due to its geographic location at the foothill of the mountains, Duarte is home to mainly residential areas. Most residents commute to other areas for work and pleasure. Many of the local business have struggled financially due to the cities geographic location, with little income coming from non-residents.
As of the 2008 Census, the estimated population for Duarte was 23,907. 50.1% of residents are White, 48% are Hispanic, 15% are Asian and 8.8% are Black or African American. 6.4% of families and 7.4% of individuals live below the poverty level. The city closely matches the national average for educated residents with 25.4% with a bachelor's degree or higher, and 79/6% with a
high school degree.
Hispanic gangs in Duarte