Inglewood, California – Hispanic gangs
Home > Hispanic Gangs > Inglewood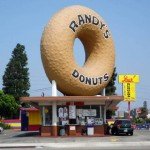 Inglewood is a city in Los Angeles County, just south of the City of Los Angeles. It shares borders with Los Angeles to the north, and unincorporated Lennox to the southwest. In 2003 the population was 112,580 with 38,648 housing units and by 2006 the population was 129,900. The city is 9.14 sq. miles in size and the downtown area is 4.15 sq. miles. The city lies in the northern most portion of the South Bay.
It was estimated that 18 percent of Inglewood families had incomes below the poverty level, about twice that of the country at large (9 percent) and only 39 percent of the units were owned by its residents. According to the US Census, 24.9 percent of the families in Inglewood had a female householder with no husband present.
According to the 2000 US Census, blacks made up 47 percent of the city's residents (53,060 people), and Hispanics made up 46 percent (51,829), but the Census Bureau estimated that in 2007 the percentage of blacks had declined to 41 percent (48,252) and that of Hispanics of any race were at 52.5 percent (61,847). The white population declined from 19 percent (21,505) to 17.7 percent (20,853).
Hispanic Gangs in Inglewood