Lakewood, California – Hispanic gangs
Home > Hispanic Gangs > Lakewood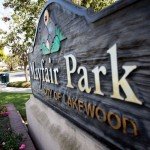 Lakewood is a city in the southeastern part of Los Angeles County, south of the 91 freeway. With 9.4 sq. miles of land, Lakewood is sometimes called "an instant city" because of its origins, going from lima bean fields in 1950 to a well-developed city by 1960. Lakewood is the archetypal post-World War II American suburb. The vast majority of its housing stock is small, mass-produced single-story houses on tree-lined streets, sold initially to World War II and Korean War veterans who worked in the aerospace factories of Long Beach and the South Bay.
Lakewood is the home of the first Denny's Restaurant. In 1953 Harold Butler founded Danny's Donuts, which was renamed Denny's Restaurant in 1959. According to the 2008 Census, the total population of Lakewood estimated at 87,157 people. 51.5% of residents are White, 29.5% are Hispanic, 8.5% are Black or African American and .9% are Asian.
3.98% of Lakewood residents speak a language other than English in the home. 26.2% of residents have a bachelor's degree or higher and 89.1% have a high school degree. Only 3.2% of families and 4.6% of individuals live below the poverty line. The median family income is $82,376.
Hispanic gangs in Lakewood, California
Varrio Lakewood