Norwalk, California – Hispanic Gangs
Home > Hispanic Gangs > Norwalk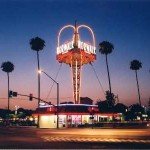 Norwalk is one of the Gateway Cities, located on a 9 sq. mile area in the southern region of Los Angeles County. Gilbert Sproul, a surveyor in the 1870s, recorded the name Norwalk after the Anaheim Branch Railroad crossed the "North-walk" for the first time. Norwalk became a station stop for the railroad though the majority of land remained undeveloped through the 1880s. Residents who wanted to visit the countryside would stop by Norwalk.
According to the 2008 US Census, the total population of Norwalk is 106,705 people. 68.4% of residents are Hispanic, 62% of residents are White, 12.9% are Asian, and 4.9% are Black or African American.
35.6% of residents are foreign born, and 65.7% speak a language other than English in the home. 13% of residents have a bachelor's degree or higher and 70.7% of residents have a high school degree. 7.9% of families and 9.8% of individuals live below the poverty line.