Pasadena, California – Hispanic Gangs
Home > Hispanic Gangs > Pasadena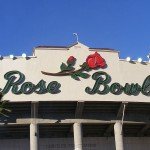 Pasadena is a large city in the San Gabriel Valley in eastern Los Angeles County. The city has a total area of 23.2 miles. Pasadena is the seventh largest city in LA County and the first to be incorporated. It was founded in 1874 and incorporated in 1886. The name Pasadena came from the Indian etymology "pa-sa-de-na", which means "of the valley".
Pasadena is home to many centers for the arts, most famously, the Pasadena Playhouse, and scientific institutions, such as the California Institute of Technology. The city is most famous for being the host of the Rose Bowl football game and parade. Pasadena has its own school district, Pasadena Unified School District.
According to the 2008 US Census, the total population of Pasadena was 137,885 people. 33.5% of residents are Hispanic, 58.7% of residents are White, 11.7% are Asian, and 11.5% are Black or African American. 28.7% of residents are foreign born, and 45.2% speak a language other than English in the home. 45.3% of residents have a bachelor's degree or higher, which is almost double the national average. 84.2% of residents have a high school degree. 10.5% of families and 13.6% of individuals live below the poverty line.