San Dimas, California – Hispanic Gangs
Home > Hispanic Gangs > San Dimas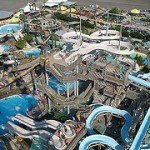 San Dimas is a city located in the San Gabriel Valley, in Los Angeles County. San Dimas is has a total area of 15.6 sq. miles, located about 28 miles northeast of the Downtown LA. San Dimas runs along the historic U.S. Route 66.
The city historically took its name from San Dismas Canyon in the San Gabriel Mountains above the northern section of present day San Dimas. San Dimas is named in Spanish after Saint Dismas, the repentant and crucified thief. San Dimas incorporated as a city in 1960, and is now known for its small town and equestrian qualities. Today, San Dimas is home to Raging Waters theme park, one of the largest water parks in California.
According to the 2008 US Census, the total population of San Dimas is 35,774 people. 26.7% of residents are Hispanic, 71.1% of residents are White, 10.1% are Asian, and 1.2% are Black or African American. 17.3% of residents are foreign born, and 24.9% speak a language other than English in the home. 31.3% of residents have a bachelor's degree or higher, and 92.2% of residents have a high school degree. Only 2.3% of families and 4.9% of individuals live below the poverty line. The median family income is $85,028.