Eric Holder trial delayed because of COVID-19, will not happen in 2020
By Alex A. Alonso for Streetgangs.Com
July 14, 2020
Eric Holder, the defendant accused of killing rapper Nipsey Hussle last year, was in court Tuesday morning for a pretrial hearing. His defense attorney, Lowynn Young, was present at the defense table waiting for the prosecutor John McKinney who never showed up for the hearing.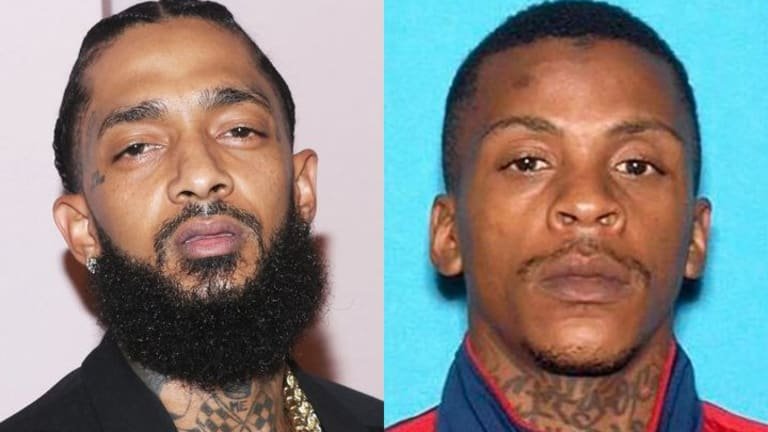 Judge Perry started the hearing at 9:14 a.m. and attorney Young informed the judge that she had not heard from the prosecutor to discuss possible trial dates. Perry stated that he was not able to reach McKinney either. Perry continued to explain that there was no way to get a jury trial this year because of a resurgence of COVID-19 cases.
Two Los Angeles County Deputies walked Holder from the holding cell into the court room a few minutes later. He was shackled at the waist and wrist and was wearing a black mask covering his mouth and nose. He was wearing the Los Angeles County jail blue pants with a yellow top and was placed about five feet from his attorney separated by plexiglass.
Judge Perry said that it was possible to fit 20 jurors in the court room but the jury room would not be available because of coronavirus. Regarding the upcoming trial and jury selection during COVID-19 Judge Perry said, "I don't know how to do it." He continued that major crimes and major felony trials will not see a jury trial this year and regarding a jury he told defense attorney Young, "You want to have the fairest jury but we don't know how to achieve that. You can get a jury on a minor case, but this resurgence is really throwing things off."
Young also told the judge that she filed a supplemental discover request with prosecutor McKinney and that he never showed up to turn over discover and that he was non responsive to email. She told judge Perry, "Even if we can start trial in August I would not be prepared because I have not had a chance to review the discovery."
Judge Perry spoke directly to Holder and told him, "I am concerned about a jury pool and fair trial. Fair trial hope is compromised. We are in a dilemma. I don't know what to do." The court set another pre-trial hearing during the first week of October 2020 and he told Holder, "the coronavirus has impacted everyone. You have a right to speedy trial. Your attorney said that she is not ready and need the discovery. I'll try to get the prosecutor to be more responsive." After Holder agreed with setting another date, the two deputies escorted him out the court room.