Two shot in apparent gang-related attack in South L.A.
Abby Sewell (Los Angeles Times) | October 30, 2011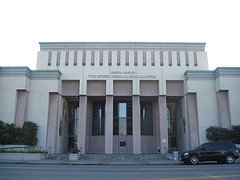 Two men were in serious condition after being shot on a South Los Angeles street Saturday night.
The two men were walking with another man on the sidewalk in the 1700 block of West 50th Street at about midnight when a vehicle approached them and someone in the vehicle asked the men which gang they belonged to, said Sgt. Rudy Alaniz at the LAPD's 77th Street station.
When the men said they weren't in a gang, someone in the vehicle fired several shots, hitting one man in the head and one in the chest, Alaniz said.
There was no description of the vehicle or suspects, who have not been arrested. The victims were not identified.
Source article: http://latimesblogs.latimes.com/lanow/2011/10/shooting-south-la.html