Criminal profiling vs. racial profiling
Sunil Dutta (Chicago Tribune) | November 22, 2010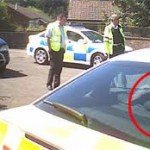 I was accused of racial profiling on the first traffic stop I made as a rookie LAPD officer in 1998. I had spotted a reckless driver speeding through the streets of Van Nuys in a large pickup truck, so I flipped on my lights and took up the chase. The driver eventually pulled over, but as I walked up to his car, he began shouting at me, accusing me of having stopped him because he was black.
I could not sleep that night. A liberal academic before becoming a police officer, I had joined the Los Angeles Police Department hoping to make a difference. Yet here I was, on my first traffic stop, being accused of racism.
I thought of that incident again last week, when the LAPD was accused yet again of not adequately guarding against racial profiling by its officers. This time, it was the Department of Justice making the claim. As evidence, the agency cited a recording of two officers seemingly endorsing the practice in a conversation with a supervisor. One of the men said that he "couldn't do [his] job without racially profiling."
Racial profiling has consistently been one of the most confounding, divisive and controversial issues the police department confronts. A perception that police target members of specific ethnic or racial groups creates a deep divide between the police and the communities we serve. But as an officer who has spent a lot of time patrolling the city's streets, I just don't think the perception is accurate.
True racial profiling, in which people are targeted solely because of race or ethnicity, is both illegal and immoral. It destroys public trust and reduces the effectiveness of the police. There is no place for it in law enforcement. And I firmly believe that most LAPD officers support that viewpoint. Even the reported statement of the officer that he couldn't do his job without racial profiling was most likely misinterpreted.Consider the gang officers in Foothill Division, where I work. Each day, they go out in the field looking for Latino males of a certain age who dress in a particular way, have certain tattoos on their bodies and live in an area where street gangs flourish. Does that mean they are engaging in racial profiling? No. They are using crime data to identify possible suspects. Ethnicity is just one of many criteria they consider.
We have to acknowledge that there is a place for race and ethnicity in police work. If officers get information that a 6-foot-tall Asian man with a Fu Manchu mustache committed a robbery, they are of course going to target their search to tall Asian men with Fu Manchu mustaches. If the suspect is an 80-year-old white woman, the search won't focus on young black men. Officers are trained to use all the data available to them in apprehending criminals. When officers follow leads and stop people, they do use profiling, but it is profiling based on all actionable intelligence, which includes race as one of many criteria. I suspect the officer whose comment was caught on tape was talking about this kind of criminal profiling.
Full article at: http://www.chicagotribune.com/news/opinion/commentary/la-oe-dutta-racial-profiling-20101122,0,3904563.story