Lakewood High football star, Jerry Stone, is charged in shooting
Jerry Stone, a senior considered among the best tailbacks in the state, is alleged to be the driver in gang-related attack in which no one was hurt, sources say. Coach confirms he will not play this season.
By Ben Bolch
August 26, 2009
A star running back from Lakewood High was charged Tuesday with two counts of attempted murder in connection with what police described as a gang-related drive-by shooting Friday afternoon in which no one was injured.
Law enforcement officials privately confirmed that Jerry Stone, a senior considered among the best tailbacks in the state, was allegedly driving the vehicle involved in the shooting, which occurred in the 1100 block of Acacia Avenue in Compton. Because Stone is a juvenile, authorities are not allowed to identify him publicly.
Stone, 17, is being held in Juvenile Hall and is scheduled to be arraigned today in Compton Juvenile Court. In addition to the attempted murder charges, faces two counts of assault with a deadly weapon, two counts of permitting another to shoot from a vehicle, one count of permitting a loaded firearm in a vehicle, one count of residential first-degree burglary and one count of hit-and-run.
The Los Angeles County district attorney's office has filed a motion to have the juvenile involved in the case tried as an adult, according to spokeswoman Jane Robison.
Steve Lawrence, was also arrested and charged with assault, according to Los Angeles Sheriff's Department spokesman Steve Whitmore. The investigation is being handled by Operation Safe Streets — the sheriff's anti-gang unit — and according to sources involves a Compton gang.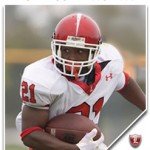 Lakewood Coach Thadd MacNeal would not confirm that Stone was allegedly involved in the shooting, but he did say the 5-foot-10, 200-pound running back would not play for the Lancers this season.
Lakewood forfeited four early-season games last year after it was determined that Stone was academically ineligible. However, he returned in time to help the Lancers reach a Southern Section Pac-5 Division semifinal, where they lost to rival Long Beach Poly.

Snoop Dogg with High School football star Jerry Stone after Lakewood lost in the playoffs.
Stone finished the season with 1,450 rushing yards and 18 touchdowns while averaging about eight yards a carry. MacNeal said his players were shaken by the loss of a star player less than two weeks before their season opener at Crenshaw on Sept. 4.

"Kids are pretty resilient, but they love Jerry and they're saddened by it," MacNeal said. "At the same time, I know they're excited about their own season and it gives opportunities for others to have a chance to contribute."
ben.bolch@latimes.com
Times staff writer Richard Winton contributed to this report.