Blood Gangs in Lynwood, California
Home > Blood Gangs > Lynwood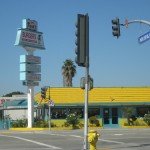 Lynwood is a city in Los Angeles County, just north of Compton and south of South Gate in the southern portion of the Los Angeles Basin. The city was incorporated in 1921 and named after Mrs. Lynn Wood Sessions, wife of a local dairyman, Charles Sessions. The city has a total area of 4.8 sq. miles of land.
According to the 2008 US Census, the total population of Lynwood is 71,138 people. 83.1% of residents are Hispanic, 33.6% of residents are White, .8% are Asian, and 11.7% are Black or African American.
39.9% of residents are foreign born. Only 3.8% of residents have a bachelor's degree or higher and 49.8% of residents have a high school degree, which is severely under the national average (by more than half). 16.9% of families and 17.9% of individuals live below the poverty line.

Blood gangs in Lynwood
Mob Piru