Glendale, California – Hispanic gangs
Home > Hispanic Gangs > Glendale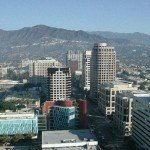 Glendale is a middle class city in Los Angeles County, on the eastern end of the San Fernando Valley. It is bordered to the north by the foothill communities of La Canada Flintridge, La Crescenta, and Tujunga, to the east by Pasadena and Eagle Rock and to the west by the city of Burbank. The total sq. mile area for Glendale is 30.7 sq miles.
Glendale's residents live right along the national average with the median household income at $55,081 per year. According to the 2008 US Census, the total population of Glendale is 195,505 people. The majority of residents (71.6%) are White, 17.4% of residents are Hispanic, 15.9% are Asian, and only 1.8% are Black or African American, Glendale also has a significant Armenian population.
Glendale's name can be traced back to 1884 settlers.
Even though the majority of residents are White, over half (53.9%) are foreign born, and 67.5% speak a language other than English in the home. 37.7% of residents have a bachelor's degree or higher, which is 10% higher than the national average, and 84.5% have a high school degree. 11.5% of families and 13.2% of individuals live below the poverty line.

Hispanic Gangs in Glendale
Toonerville