Azusa, California – Hispanic gangs
Home > Hispanic Gangs > Azusa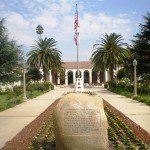 Azusa is an 8.9 sq. mile city in the far northwestern region of Los Angeles County. Azusa lies along the Foothill Freeway (I-210) at the entrance to the San Gabriel Canyon. It's nickname, "The Canyon City" is derived from its close proximity to the canyon. Azusa has its own police department and its own public school district, Azusa Unified School District.
The population was recorded in the 2008 census at 46,616 residents. Hispanics dominate the residential population at 67.6%, Whites make up 41.5%, Asians only make up 7.3%, and Blacks or African Americans make up 3.9%. There are almost 3% more males than females in Azusa and the median age is only 28.8 (national median age is 36.7).
In 2008 only of 2.5% housing units were recorded as vacant, which is a fraction of the 12% national average. Rented housing units were over 10% more than the national average, while owned housing units were over 10% under the national average. Despite being home to a sizable private Christian University (Azusa Pacific University) only 16.1% of actual residents have a bachelor's degree, which is 11.3% less than the national average.
Hispanic gangs in Azusa