Claremont, California – Hispanic gangs
Home > Hispanic Gangs > Claremont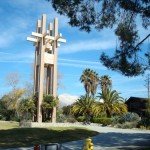 Claremont is the farthest eastern block on Los Angeles County map. It is located at the base of the San Gabriel Mountains about 30 miles east of downtown Los Angeles. Claremont is known for its 7 higher-education institutions, its tree-lined streets, and its historical buildings. Due to its large number of trees and residents with doctorates, it is know as "the City of Trees and PhDs". It was rated by CNN/Money magazine as the 5th best place to live in the United States and it was the highest rated place to live in California.
In 2008, the total population recorded by the US census was 34,933 people. A large total of 72% of residents are White, and only 19.3% are Hispanic. 9.6% are Asian and 3.5% are Black or African American. Nearly the entire population (93.6%) has graduated with at least a high school degree and 54.2% have at least a Bachelor's degree or higher, nearly doubling the national average.
Of the residents of this affluent town, only 16.9% are foreign born and 24.5% speak a language other than English in the home. The median family income is over 6 figures at $102,138, which far exceeds the national average of $63,211. Only 3.5% of families and 5.4% of individuals are recorded as living below the poverty line.
Hispanic gang in Claremont